So, there's been a lot of stuff on my Facebook & Twitter about the Tube Strike. It's mainly been people I know complaining about "selfish" Tube workers who decided to strike, saying things like "I hope you're happy" after a long commute home in the rain.
You know what? I don't think they're happy about you getting soaked in a rainstorm, gleefully laughing as they sit watching the news at home; I really doubt they did this just to give you a shitty journey home so you could bitch about them on Facebook.
They are angry & they did it to send a message to someone that broke a promise & they wanted ALL of London to hear that message.
In 2008, Boris said that if he was made Mayor of London, he would ensure that all ticket offices that were currently in use would remain open. He reiterated this several times after that as Mayor.
Now he wants to close them and cut 950 jobs in the process.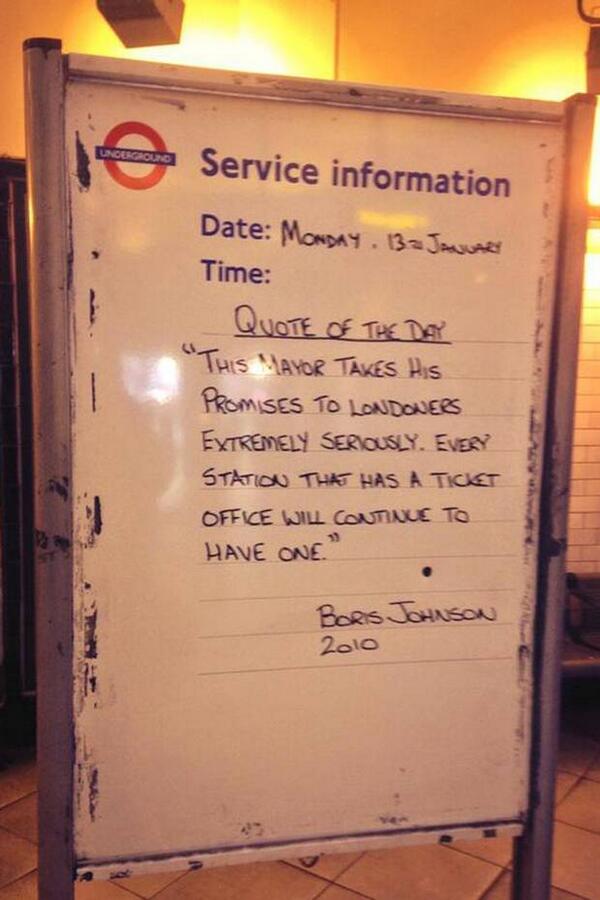 This is about TfL putting people into unemployment so they can save a little extra cash each year (which I doubt will be passed onto commuters' fares). This is about Boris Johnson getting votes off of a false promise.
I don't think strikes should be done willy-nilly. They are annoying for people just trying to get to work and are definitely not a good way to get the commuting members of the public on the side of the Tube workers. But these strikes were because people are angry that Boris - *gasp* - broke a promise.
If you want to be angry at anyone, be angry at Boris for talking bollocks during his campaigning and getting into power thanks to false promises.
Some people don't see ANY need for these people to be angry and are perfectly happy with all stations just having ticket machines, but not me. I like having the option of speaking to a person when buying a ticket or topping up my Oyster card. I like knowing that someone has a job and is there to help people not confident enough to use the machine (of which there are many). Computers are great, they help us do so much, I have studied them and written programs for them, but too many people use them to completely replace people and label it as "progress".
If it was just restructuring, if all the people were just being transferred to have all staff out and about in stations, I'd be fine with that, but the problem is, they're not. Most of those jobs are just being cut & replaced with machines.
Sadly, we live in a world right now where all we hear about is companies doing anything to to cut low/modest-paid staff on the ground & replace them with technology to save money, but giving bigger and bigger paycheques to executives. People are getting angrier and angrier about it, and when people get angrier, they are more likely to protest and say "screw you" to the powers-that-be - especially in a job where they are often at the end of verbal and physical abuse (which is one reason why I doubt I could do the job).
I don't think Tube strikes are the best way for them to get their point across or make commuters like them, but I understand why they are doing it. They don't want TfL to walk all over them and they want people to listen.
So please, feel free to be annoyed at your commute, but do take the time to think about why these strikes are happening, why these workers are so angry and who your anger is best directed towards. Is it the little guys doing the only thing they feel they can do to be heard, using the little bit of power that they have through their union, knowing that they could get a backlash from the public? Or is it the Mayor that breaks his promises & forces people into unemployment in a recession?